Starter Home Considerations For First Time Buyers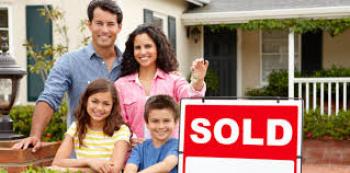 According to our friends at realtor.com, house size matters, but maybe not in the way you think. You should know that when it comes to buying a home, bigger isn't always better. And if a potential home is too small, frustrations can add up. Here we'll run over a few things to consider when it comes to the space and size of your new home.

1. House vs. Budget
Talk to real estate professionals who know your market. Banks have tightened their lending in the past few years, so you may not really know what you can swing until you get pre-approved. If you don't have kids but want them, expect your finances to tighten when you do. Many homeowners recommend buying less house than you can afford, to leave some budgetary breathing room.

2. Resale Value
A one-and-a-half bathroom home may seem like a steal, but there may be a reason for that – maybe anything less than two bathrooms doesn't sell well in your area, so you could struggle with resale value. Or maybe you're just lucky and it's absolutely worthwhile. Knowing what sizes hold their value can help guide your decisions.

3. Hobbies
Potential buyers' hobbies warrant some consideration. This isn't to say you need to stage a room as a gamer's paradise, or a scrapbooking room or a music space, but it's nice to know a room has the potential to be any of those things. Bonus rooms can be very appealing to a family that's heavy into activities.

4. Outdoor Space
While a garden or lawn may be a big part of your overall dream as a homeowner, it's important to consider the regular yard maintenance that comes with it. A lush and full garden and yard is wonderful, but make sure you take stock of the time you have to devote to an elaborate garden.

5. Future Needs
Be sure to keep future plans in mind when purchasing a home – kids, an aging parent, new pets, etc. The market vagaries of the past few years have made it harder than ever to upgrade starter homes in many markets, so it might be better to skip the "starter" part, especially if you're focused on a specific area. With volatile markets, you may end up in your starter home longer than planned.
Author:
Carla Winter - Raymond Selix
Phone:
303-523-1921
Dated:
June 11th 2014
Views:
1,795
About Carla Winter -: Ray and Carla have been working as a team since 1995. Carla's extensive knowledge of the Denver a...